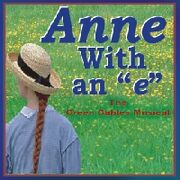 "Anne Shirley is the most moving and delightful child of fiction since the immortal Alice."-- Mark Twain
Book by Neil Newell.
Music and Lyrics by C. Michael Perry & Neil Newell.
The heart-warming story of the irrepressible Anne Shirley, with a musical score that will knock your socks off! Anne of Green Gables, by L. M. Montgomery is an enduring story of innocence, joy, and the true meaning of love that has delighted and inspired readers for nearly a century. As a testament to its popularity, the book has seen well over one-hundred printings since its first publication in 1908. This exciting new musical adaptation faithfully portrays the original story in all its charm and appeals to those of every generation. The story begins as Anne arrives at Green Gables and follows her through mishaps and adventures, to Matthew's death. This musical production adapts easily and impressively to the stage. The premiere production of "Anne with an E" was the second highest grossing production in the twenty-year history of Spanish Fork Community theatre in Utah. It is a story of innocence and charm that is sure to delight and entertain both old and young. This play is published by Encore Performance Publishing, LLC an imprint of Eldridge Plays and Musicals. www.histage.com OR www.encoreplay.com
Ad blocker interference detected!
Wikia is a free-to-use site that makes money from advertising. We have a modified experience for viewers using ad blockers

Wikia is not accessible if you've made further modifications. Remove the custom ad blocker rule(s) and the page will load as expected.