Friends of God

Written by

Date of Premiere

January 6, 2006

Location of Premiere

Art City Playhouse, Springville, UT
Plot Summary
Edit
Joseph Smith, Jr., the Mormon prophet, is finding himself in increasing dangerous circumstances as issues of polygamy, religious persecution, political conspiracies, the destruction of the Nauvoo Expositor and the betrayal of once close friends such as William and Jane Law lead Joseph Smith onto the long road of Carthage Jail. However, loyal friends such as Hyrum Smith, John Taylor, Brigham Young, Eliza R. Snow and Orrin Porter Rockwell show fierce loyalty to God and his Prophet, despite the severe opposition.   
Original Cast
Edit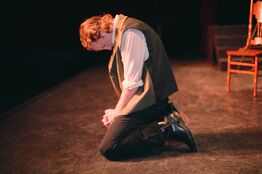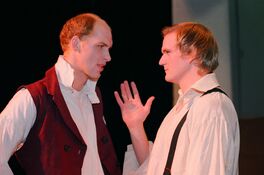 Director: Mahonri Stewart
Joseph Smith: Benjamin King
Emma Smith: Heather Jones
William Law: Adam Argyle
Hyrum Smith: Jordan McMillan
Eliza R. Snow: Holly Harris
Jane Law: Daedre Jarvis
Willard Richards: Ken Brown
John Taylor: Stephen Driggs/ Mahonri Stewart 
Loretta Taylor: Heather...
Orrin Porter Rockwell: Bryce Bishop
Brigham Young: ...
Mary Ann Young: Melissa Chung
Voices of History (playing various roles): Penny Pendleton, Amos Omer, Jason Fulmer, Adam Stallard