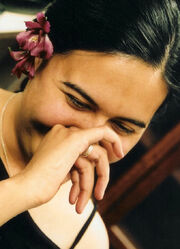 Interviews and Articles
Edit
2001 Winner of the Arlene R. and William P. Lewis Playwriting Contest for Women for Lady in Waiting
Awards for Standing Still Standing:
2002 Winner of the Vera Hinckley Mayhew playwriting competition (under the title Wake Me When It's Over)
2002 Association for Mormon Letters Award honorable mention (under the title Wake Me When It's Over)
2006 Winner of the LDS Film Festival screenplay competition for film adaptation
2005 IRAM Award winner for Martyrs' Crossing
2009 Association for Mormon Letters Award for Little Happy Secrets
2000-2005
Lady in Waiting (Premiered August 1, 2001)
Standing Still Standing (July 17, 2002)
The Beggar's Opera (March 26, 2004)
Martyrs' Crossing (April 15, 2004)

2006-2009
A Flickering (February 23, 2006)
A Place Apart (March 1, 2007)
Hope Falls (March 22, 2007)
The Church of St. Pinky at Katy, Texas (May 5, 2007)
Up Deer Creek (April 10, 2008)
Cherry Pie (August 1, 2008)
A Burning in the Bosom (October 2008)
Little Happy Secrets (March 19, 2009)
Persuasion (November 6, 2009)
External Links
Edit
Ad blocker interference detected!
Wikia is a free-to-use site that makes money from advertising. We have a modified experience for viewers using ad blockers

Wikia is not accessible if you've made further modifications. Remove the custom ad blocker rule(s) and the page will load as expected.