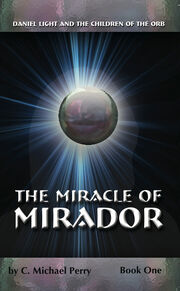 Daniel Light and the Children of the Orb SERIES
BOOK ONE
The Miracle Of Mirador
What if it took the loss of everything you loved for you to become whom you were meant to be?
An ancient Prophecy is fulfilled as Daniel, the Miracle, is found and trained by the Light and is then led to discover the sacrifices necessary for his success in the growing battle against the Dark.
Miraden, Master Magician and Enchanter under the direction of the Creators of the Realms of the Crystal Orb, finds a boy pure of heart and mind. The ancient Prophecy is fulfilled in Daniel, the miracle boy, as he learns and is guided at his Master 's side. His inherent powers help to heal the scars that the Dark has left behind, recover a stolen and bewitched princess, and fight a war against the forces led by Miraden's Dark brother, Tophet. The boy 's own ties to his family are tested and in the final outcome a larger family stands together around Daniel and all proclaim him to be The Miracle of Mirador.
A Prince on a quest for his betrothed Princess; A Kingdom searching for its lost daughter – that same princess; an Enchanter seeking the Miracle of Prophecy that has been promised since the dawn of time: the one who is to become his apprentice and save the world; a boy growing up wise in a loving family, seeking friends who will understand and share his dreams; a Darkness, alive since before the moment of Creation – before Humans, before Dwarves – seeking supremacy over its eternal foes: all meet in a climactic conflagration of battles fueled by secrecy, magic and treachery. The battles center around the heart of the Realms of the Crystal Orb: the kingdom of Mirador. How the Prince, Princess, Enchanter and Dark Wizard are aided or vanquished by the Miracle, and how each act requires a sacrifice, forms the center of "The Miracle of Mirador."

VISIT: CreateSpace to purchase the printed book
VISIT: Kindle to purchase the e-book
Ad blocker interference detected!
Wikia is a free-to-use site that makes money from advertising. We have a modified experience for viewers using ad blockers

Wikia is not accessible if you've made further modifications. Remove the custom ad blocker rule(s) and the page will load as expected.